How Does A Harmony Happening Happen?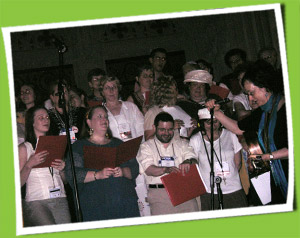 As an instant chorus - where song sheets are handed out and all participants are led and encouraged to sing different parts -with  no previous rehearsal
As  a voice and percussion session where everyone becomes a  member of a the 'vocal ensemble' in a shared exciting musical experience (no instruments are necessary - breath and body, hand clapping, snapping etc...)
As part of a service, celebration, school assembly,  conference, festival or retreat. This format  requires an hour rehearsal  session working with the group and then merging it into a structured presentation.
As an artist residency - several rehearsal sessions with a volunteer chorus leading to a community performance.